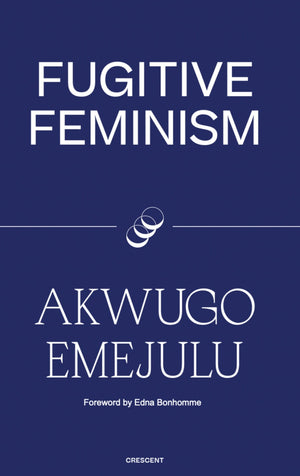 Fugitive Feminism by Akwugo Emejulu
The first book in Crescent:

a new series of contemporary writing. 
With a Foreword by Edna Bonhomme

Humanity has always excluded Others on the basis of race and gender. What happens to people who choose to flee, following in the footsteps of those who resisted enslavement?
This audacious manifesto draws on the legacies of bell hooks, Audre Lorde, Angela Davis and others to consider the ways in which Black women have been excluded from, struggled to achieve and opted to reject the category of 'human'. Sociologist Akwugo Emejulu argues that it is only through embracing the status of the 'fugitive' that Black women can determine their own liberation. Fugitive Feminism is a call for the collective process of speculative dialogue and a bold new model for action.  
Paperback Original
Publication: 27 October 2022
ISBN: 978-0-9957162-8-5
Extent: 136 pages
"A reminder that Black feminism can be a promise, even if the world that we have inherited is so perilous. Fugitive Feminism is a bricolage: an intellectual imprint and philosophical harmony between what it means to flee and conjure a world where we are set free." Edna Bonhomme